304 Stainless Steel Coil Tubing
Product Detail
Product Tags
Coiled tubing is a continuous length of steel pipe with an appropriate surface treatment. Stainless steel coiled tubing is a long metal tube supplied as a spool on large reels. These tubes exhibit excellent resistance to corrosion and oxidation in different media. They are available in outside diameters ranging from 0.125mm OD to 12mm OD. Stainless steel coil heat exchangers are designed for superior strength and rigidity. These pipes can exchange hot or cold fluids from one container to another without creating any deformations or cracks in the system. Stainless steel coiled tubing is widely used in condensers, boilers, superheaters, etc. in various chemical industries. We are a leading manufacturer of stainless steel coils in the country. We are committed to producing high-quality products that are available to all at reasonable prices.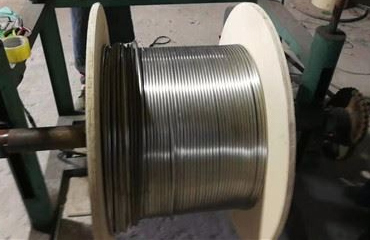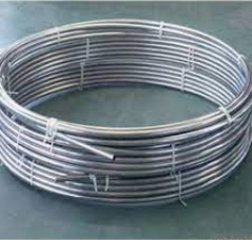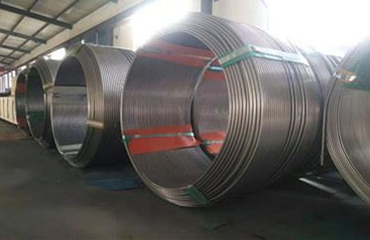 304 stainless steel coils can be used to transport various gases and fluids under high pressure and high temperature. The tubing has excellent resistance to various acids and oxidizing agents. The main advantage of 304 stainless steel coiled tubing is that it can pump these fluids and gases without relying on gravity. These tubes have a maximum hardness of 80 HRB. 304 stainless steel coil is a low-cost, high-efficiency operating system. These coils are the first choice for open-hole mining or drilling operations in different systems. The seamless stainless steel coil is a high-strength coil. These coils have a minimum tensile strength of 30,000PSI and a minimum yield strength of 0.020PSI. They measure between 4.76mm and 25.4mm. Welded stainless steel coils are formed by joining sheets of steel together. The wall thickness of these coils is between 0.5mm and 4mm. They are easy to form and install. Our experienced workers utilize cutting-edge technology and the best raw materials to manufacture all our products.
1/2 SS coils are designed with ½ diameter tubing. These pipes are mostly used on occasions that require high-temperature resistance and pressure resistance. This 1/2 stainless steel coil is available for schedules between Sch 5 to Sch 160. They are extremely durable and can be easily cleaned and maintained for a long time. 1-inch stainless steel coil for added safety and reliability.
Type
stainless Coiled tube
Standard
ASTM A269/A249
Material
304 / 304L / 316L / 321 / 317L/2205 /625/ 285/ 2507
Process
Welded and cold drawn
Application
Stainless steel coil for industrial use: heat exchanger, boiler, petroleum, chemical industry, chemical fertilizer, chemical fiber, pharmaceutical, nuclear power, etc.Stainless steel coil for mechanical structure: printing and dyeing, printing, textile machinery, medical equipment, kitchen equipment, automobile and ship accessories, construction and decoration, etc.

Stainless steel bright coil: welded by stainless steel strip and then reduce the wall, reduce the wall from thick to thin, this process can make the wall thickness uniform, smooth, and reduce the wall tensile pipe wall to form the effect of no weld.
| | |
| --- | --- |
| Dimension | |
| Specification | 3.175-50.8MM*0.2-2.5MM |
| Diameter | 3.175mm-50.8mm |
| Thickness | 0.2MM-2.5MM |
| Length | 100mm-3000/coil or as customer's requirement |
202 Stainless Steel Pipe Specification
| | |
| --- | --- |
| Sizes | 1/2 inch Nominal Bore to 48 inch Nominal Bore |
| Outside Diameter: | 6.00 mm Outside Diameter to 914.4 milimeter ODB |
| Thickness Range: | 0.3mm to 50 mm, SCH 5, SCH10, SCH XXS, SCH 40, SCH XS, SCH 160, SCH 80, SCH 80S |
| Type: | ERW / Fabricated / Seamless /Welded /CDW |
| Length: | Single and Double Random or As Per Need |
| Form: | Round , Square and Rectangular Pipe |
| End: | Treaded, Plain and Beveled End |
| Outside Finish: | No.8, 2B, No.4, No.1 Mirror Finish or as per need |
| End Protection: | Caps of Plastic |
| Delivery Condition: | Cold Drawn, Polished, Annealed and Pickled, Bright Annealed, |
| Specials: | other than above Sizes and Specifications can be manufactured on customer request |
| Inspection, Test Reports: | EN 10204 3.1, Mill Test Certificates, Non Destructive Test Reports, Chemical Reports, Third Party Mechanical Reports,NABL Approved Lab Reports, Destructive Test Report, PMI Test Reports, Inspection Reports, Visual Inspection Reports |
| Packing: | Packed in Steel Strips Bundled, Plastic Bags, Wooden Boxes or as per need |
---
Previous:
Chinese Professional High Quality ASTM Stainless Steel Plate 304L 304 321 316L 310S 2205 430 Stainless Steel Sheet Prices 2b No. 4 Hl for Construction
Next:
New Fashion Design for 0.1mm-5mm 304 304L 316 309 310 430 316L Stainless Steel Sheets ASTM JIS SUS No. 3 No. 4 4X8FT Cold Rolled/Hot Rolled Stainless Steel Plate
---